Ubet Taper Lock Bush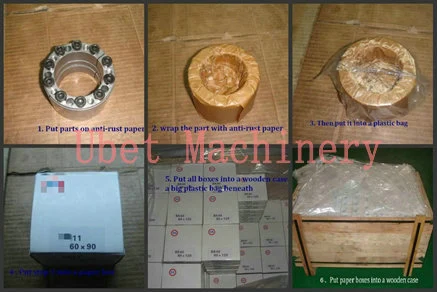 The Taper Lock bush is a locking mechanism commonly used in Power Transmission Drives for locating pulleys, sprockets, and couplings to shafts. The Taper Lock bush is pre-bored and keyed to match the required shaft and keyway diameters. The outside of the bush is tapered to match the component bore that is to be located on the shaft.
Ubet Taper bushes is manufactured from precision cast iron or carbon steel C45 with high quality finish. They are widely used to fit into Sheaves, Sprockets, Pins, V-belt Pulleys and Timing Pulleys.
Features:
· No need for re machining.
· No corrosion between bore and shaft.
· Easy-On/Easy-Off
· Material in Steel and cast iron are available
Types of Taper Bushings are available:
· ANSI Split Taper Bushings
· ANSI Taper Bore Bushings
· ANSI QD Bushings
1008, 1108, 1210, 1215, 1310, 1610, 1615, 2012, 2517, 2525, 3020, 3030, 3535, 4040, 4545, 5050